Cum Kleen
I have learned that one of the side effects of the surgery is that there is no ejaculation.  All that plumbing has been removed.  That will be interesting.
I wonder how others experience the after sex clean up?   With the wife, it was always get up and clean up.  Really spoils the moment.  By the time she got thru, it was peck on the cheek and off to sleep.  Bim, Bam, Thank You Mam!
With SM and even my first AP, it was very different.  We savored the moment.  We did not want to get up.  We did not want to leave.  We wanted to stay together and be in each others arms and apply a little SOS (skin on skin).  What this inevitable resulted in was another round of amazing sex.   And maybe even another.  Reminds me of the shampoo bottle– lather, rinse, repeat.  They never say how many times!!!
Now I have been firing blanks for some time.  Had a vasectomy a long time ago.  Evidently, after the surgery,  you can still have orgasms but then nothing comes out.  Weird huh??  There is a big difference between firing blanks and not having any bullets!!!!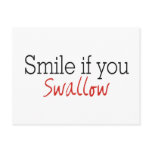 However, this could really have a positive turn.  The question of swallowing will never come up.  That is one less excuse!!!  Also, the clean up on aisle 3 should be no problem!!!
6 Responses to "Cum Kleen"
Gosh, no cum! But at least you still get to ejaculate – that's the best bit afterall ; )

Hey …

Interesting post. I have a question regarding the 'nothing comes out' bit … Vasectomy apart, could there be other reasons why this happens? I know a guy who says he hasn't had a vasectomy but still we had a 'nothing comes out situation' for years. He says it's a habit he has 'learnt' so he doesn't have to worry about (more) children …
Thanks

As I understand it… Vasectomy only affects sperm in your ejaculation. The prostate and seminal vesicles continue producing fluids that are ejaculated. After vasectomy, the amount of fluid ejaculated decreases by about 5%. With my surery, the took out the prostate and seminal vesicles. Therefore, nothing comes out but you still have an orgasm. I've never heard of controlling what comes out– not sure that can be "learnt". Not sure what was going on there.

Not sure that is possible. Probably something in the pipes.

I have a condition of no cum but experience orgasm due to prostate cancer..prostatectomy… no ejeculation but th esame feel

Yep. Got the same thing going.